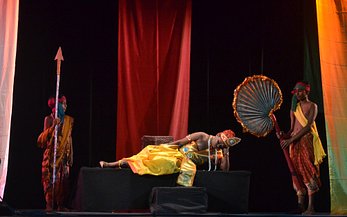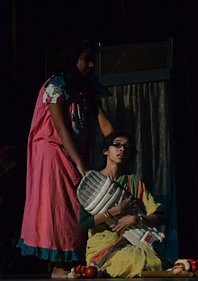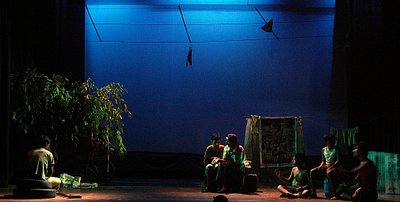 Sabuj Desh Chhuti Dalchhut
Is there any past experience?
Previously Kolkata Eso Natak Shikhi had organised National Children's Theatre Fest in Kolkata in collaboration with EZCC, Natya Akademy, Sishu-Kishore Akademy & Hudco. Since 2004 participating teams came from different states of India like Kerala, Assam, Mizoram, Chhattisgarh, Tamil Nadu, Gujrat, Andhra Pradesh, Maharastra, Orissa & countries like U.K., Bangladesh, Nepal. Almost all the theatre personalities of West Bengal had attended the Fests.
They organised 1st International Children's Theatre Festival at Academy of Fine Arts from 17-21 June 2018 with 8 countries & 16 plays.
Who are Eso Natak Shikhi?
The Group comprises of young enthusiast aged 5 to 15 who take off their academics to sharpen their ability. It's a center for theatre training & production running for 22 years braving all odds. They perform with equal ease & skill not only at the city Kolkata, But in the suburbs & villages of Bengal as well as in other cities of India & Bangladesh. To them children's drama does not mean staging of fairy tales. Their productions are strikingly topical as their aim is to show the intrusion of the vices of adults on the children's world. The troupe has kept on earning laurels from competitions at State & National level. Telecast of their play has also done by Kolkata Doordarshan, E TV Bangla, Zee Bangla & Aakash Bangla. The group assists workshop in schools & other theatre groups without remuneration.
Being inspired and encouraged by the audience at large in the different parts of the country for its grand success in every performance, we have taken a sacred vow of organizing the Children's Theatre Fest in Kolkata. Kolkata has experienced many National level festivals in adult's theatre but such a children's fest is undoubtedly the first of its kind in West Bengal. Participating teams are coming from different states of India as well as Bangladesh, Nepal, Sri Lanka, South Africa & Slovenia.
We wish to create a vanguard for social consciousness & better human understanding. Enlighten the children below poverty line through amusement. Establishment of a drama academy to take all the responsibilities of a child including food, shelter, clothing, education, medication. Application of theatre in education. Regular performance before child audience free of cost. Organize fee free workshops in remote areas for the unprivileged children. Raise a group of whole-time theatre workers.